Corporate Social Responsibility
At Atlas For Men, we are committed to providing quality clothing that is accessible to everyone, regardless of budget and size. As a brand that is passionate about encouraging appreciation for the great outdoors and enjoying it to the full, it is only natural that we have embarked on a journey to improve the environmental and social impacts of the production and supply of our products and services. In addition to the measures we currently take (as mapped out below) we strive to continually improve, grow and renew our efforts through our every day practices.

CLOTHING DESIGN
Our goal is to offer good-quality, timeless clothing which is not subject to trends that come and go. We work to provide long-lasting, safe products that our customers can wear time and again on their daily adventures.

-  We comply with the EU REACH regulation (Registration, Evaluation, Authorisation and Restriction of Chemicals), one of the strictest frameworks in the world. If, after chemical testing, a raw material does not conform to the standards set out in this regulation, we refuse it.
- We go above and beyond the EU REACH regulation to provide our customers with clothing of the highest quality, performing tests on 100% of our products in relation to qualities such as colourfastness, washing durability and anti-pilling. All our tests are carried out in accredited, certified and globally recognised third party laboratories. Since we value transparency, our customers can request these test results from our Customer Service team.
- All Atlas For Men products are easy-to-maintain and can be washed at home at 30°C or under, helping limit economic and environmental impacts.


PRODUCTION
We are a diverse enterprise that believes in equality and employee well-being. We value transparency and expect our partners to share our standards. That is why, as part of the production process, we are committed to following the Business Social Compliance Initiative (BSCI) code of conduct that upholds positive working conditions (as visualised below).
Having long-term relationships with our suppliers and challenging their practices regularly enables us to ensure good working conditions and fair pay are upheld. It also allows us to ensure that production is carried out in a way that complies with each country's regulations, as well as European norms.
- In 2022, 100% of our direct suppliers were audited by official organisations (BSCI or other accredited auditors). 
- In the case of non-compliance with regulatory norms and the additional demands set out by our company, instead of turning a blind eye to the problem, where possible we make the active decision to accompany our suppliers, helping them to improve their practices and adopt our quality and safety standards.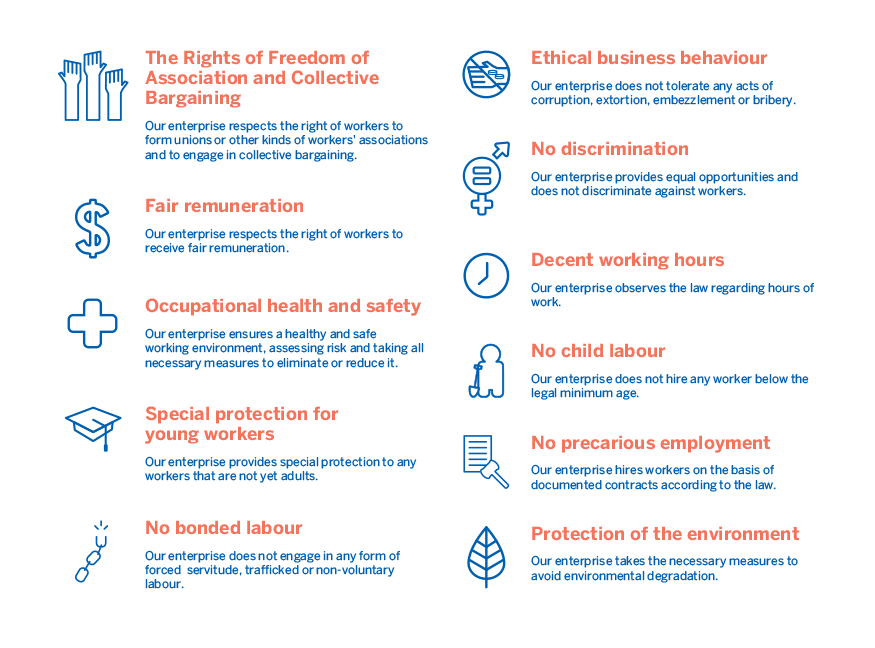 TRANSPORT
We minimise the environmental impact related to the transportation of our products by favouring waterborne transport, which has a far less significant carbon footprint than air transport. A win-win, transportation via boat is more cost-effective, helping us to keep our clothing costs budget-friendly.

- In 2022, more than 96% of our clothing items were transported by boat. Only 1% of our clothing was transported by airplane; replacement needs and production delays obliged us to use the fastest means of transport possible to ensure that customers received their order as quickly as possible.


SECOND LIFE
We value our products and forbid the destruction of surplus stocks. Our provisions team make great logistical efforts to keep our quantities of unsold items to a minimum. However, where unavoidable excess occurs, we continue our ethos of making our clothing accessible by generously donating our surplus stock to our French partner Dons Solidaires to support charity action around the world.

- In 2022, we donated over 41,000 products via our partner Dons Solidaires, helping to limit waste while assisting those in need.


DISTRIBUTION OF PRINT MARKETING MATERIALS
We are committed to reducing the environmental impact of our catalogues and parcel inserts. To achieve this, we have adopted the following measures:
- Ensuring 100% of our directly sourced paper comes from sustainably managed forests (FSC or PEFC certified paper). To further drive change, in 2022 we also integrated up to 9.5% of recycled paper into our catalogues.
- Eliminating single-use virgin plastic from our catalogues and parcel inserts and, with the aim of continued improvement, progressively replacing it either by paper or recycled plastic.

In 2022:
- 69% of our catalogue packaging was made from 100% paper
- The packaging of our parcel inserts contained between 60% and 80% recycled plastic
- In total, this represents a 32% reduction of virgin plastic in our packaging